R56 and RF25 Resolvers for Reliance Automax DCS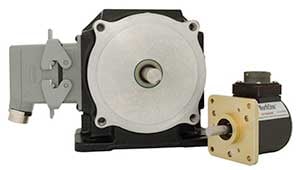 May 19th, 2015—Dynapar announces the all new Northstar™ brand R56 foot/C-Face mount and RF25 flange mount resolvers ideal for pulp & paper and steel mill environments. The R56 and RF25 are designed to be suitable replacements for existing resolvers and offer reliable performance and durability at a lower cost and faster lead time for position and velocity feedback applications in the Reliance Automax distributed control system. For a list of crossover models, visit our
Tamagawa Reliance crossover guide
.
Equipment users involved in production know that downtime due to maintenance or extended lead times on back order parts is unacceptable. To meet this challenge, the Northstar R56 and RF25 resolvers are made to order with average lead times of 10 days and are backed by the support of Dynapar's North American sales and support network and hundreds of distribution partners.
The R56 and RF25 offer low cost and reliable performance by utilizing the proven technology and modern materials of Harowe resolver engines. With a track record of over 30 years, Harowe resolvers offer a superior cost position thanks to large scale production and dependable performance in extreme environments.
Both the R56 and RF25 are designed for maximum compatibility with existing systems and easy user installation. The R56 resolver features a 5/8" shaft with NEMA 56C face mount and foot mount with an industrial 10 pin latching connector standard for quick installation and enclosure rating of IP65. Large outer bearings isolate shaft loads ensuring heavy duty performance and durability.
Learn more about the R56 Resolver
The RF25 resolver includes a 3/8" shaft with square flange mounting plate, 10 pin connector and is IP65 rated. The RF25 offers high integrity seals and a very tough package to withstand extreme abuse.
Learn more about the RF25
Availability
The new R56 and RF25 foot mount resolvers are built to order and available for the general market in May 2015. The products will be sold under the Northstar brand name. For new or existing applications and volume pricing,
contact a Dynapar representative
Technology Background
Speed, precision and control are critical in the fast-paced pulp and paper industry and harsh temperatures of steel mills. Because of their simple transformer design and lack of any on board electronics, resolvers are extremely rugged devices and are the best choice for applications where reliable performance is required in high temperature, high shock, vibration and contaminated environments which makes resolvers the sensible engines for shaft angle encoding. Northstar offers a wide range of heavy-duty magneto-resistive encoders and mill duty resolvers designed to meet this industry's performance and environmental extremes.

About Dynapar
Dynapar is a world-leading provider of optical and magnetic encoders and resolvers with more than 50 years of experience in engineering and manufacturing rotary feedback devices. Dynapar was founded in Gurnee, Illinois in 1955 and has been expanded to include Dynapar™, Hengstler®, NorthStar™, Harowe™, and Encoder Technology brand product lines. Dynapar is now uniquely a supplier of technologies spanning optical, magnetic, and resolver based feedback.

Pioneering the first true vector-duty hollow-shaft encoder launched Dynapar's strong presence in several industries, including steel, paper, elevator, oil and gas, wind energy, medical, material handling, and industrial servo manufacturing. From small kit encoders to large mill-duty tachometers, Dynapar has the industry covered.

Dynapar customers rely on expertise and support provided from the U.S. sales and manufacturing location in Gurnee, Illinois: Phone +1 800.873.8731 or +1 847.662.2666; FAX +1 847.662.6633. In addition, Dynapar supports global customers with local sales and production locations in Germany, Japan, China, and Brazil.