Encoders For Pulp & Paper Mills
Speed, precision and control are critical in the fast-paced pulp and paper industry. Northstar offers a wide range of heavy-duty encoders and mill-duty magneto-resistive encoders designed to meet the performance and environmental extremes of the pulp and paper mills industry including Northstar brand RIM Tach® Series encoders.
Our comprehensive line of digital control systems provides reliable speed and web tensioning control for reliable plant operation. These rugged, standardized and customized digital encoders are engineered with magneto-resistive technology to track machine speed for precise control in the harshest of environments.
Our Mill-Duty (RIM Tach®) encoders provide reliability and precision even under the most challenging conditions and provide solid signals to precisely track machine speed for better control and for trouble-free and trustworthy performance. Our Heavy-Duty (Slim Tach®) encoders incorporate a bearingless and ultra-thin design for longer encoder life and a variety of motor mounting possibilities.
Recommended Solutions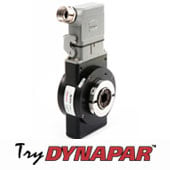 HSD35 Heavy Duty Optical Encoder
Paper mills require equipment that is robust enough to handle dust and moisture while performing time critical applications. The HSD35 heavy duty optical encoder resists up to 400G of shock and includes a stainless steel clamp and hub shaft for reliable mill duty performance. The compact design and optional dual isolated outputs for redundancy improve field performance.
The NEW RIM Tach®8500 NexGen Encoder was designed with the customer in mind. Now with the largest air gap (70 thousandths) in the industry the NexGen RIM Tach provides more generous axial play allowing for easier installation. To learn more about this revolutionary encoder click on the image above.
Designed as a suitable replacement for current resolvers used in the Reliance Automax DCS, the R56 offers an average lead time of 10 days and lower cost thanks to field proven technology and mass production. The R56 is IP65 rated and includes a 10 pin latching connector with mating end as standard for easy installation.