Achieving higher resolution with Quadrature Encoders
When more resolution is needed, it is possible for the counter to count the leading and trailing edges of the quadrature encoder's pulse train from one channel, which doubles (x2) the number of pulses per revolution. Counting both leading and trailing edges of both channels (A and B channels) of a quadrature encoder will quadruple (x4) the number of pulses per revolution. This technique is known as encoder and will depend on how the signal is decoded through the users drive, PLC or Controller.
As a result, 10,000 pulses per turn can be generated from a 2,500 PPR quadrature encoder. Typically with a Dynapar encoder, this 4x signal will be accurate to better than ±1 count. Likewise, 40,000 pulses can be generated from a 10,000 PPR quadrature encoder.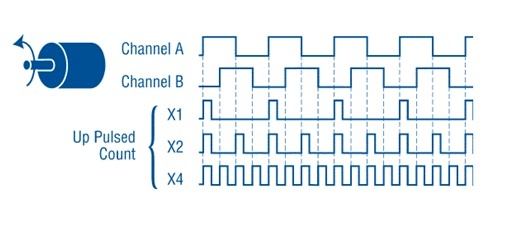 By triggering on the rising and falling edges of the pulse train, we can double or quadruple the counts per revolution from the same quadrature encoder disc.
This technique can be an effective way to increase resolution without changing the code disc. However, it requires a well-behaved square wave output for effective detection. Care should be taken with choice of output driver; particularly over long cable runs or in noisy environments. The accuracy of the quadrature encoder output should also be taken into account as this will also be multiplied by the encoding factor.
How to choose a Quadrature Encoder?
Like all encoders, choosing a quadrature encoder starts with your application. If your motor has a shaft, a shafted encoder with a coupler can be used. A hollow shaft encoder is another option mounted with the motor shaft going through the encoder for more accuracy. If your motor is used in a contaminated or dirty environment or you are using a large vector motor, a bearingless or magnetic encoder will provide the most reliable feedback.