Dynapar Rated No. 1 Supplier for Encoders/Resolvers 2 Years in a Row
For the second year in a row, Dynapar was rated by the readers of Control Design magazine as the number 1 supplier of encoders/resolvers.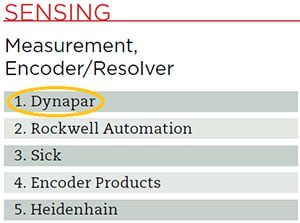 July 6, 2016 - The results are based on Control Design's annual survey to 22,000 control and automation professionals. The survey is unaided, meaning participants are not shown a list of brands to choose from. Participants are asked to select a first, second and third preference for suppliers in a broad range of automation product categories. Dynapar was rated #1 in measurement, encoder/resolver suppliers.
Learn more about Dynapar's encoder and resolver technology

About Dynapar
Dynapar is a world-leading provider of optical and magnetic encoders and resolvers with more than 60 years of experience in engineering and manufacturing rotary feedback devices. With lean manufacturing and advanced inventory systems, Dynapar is committed to providing fast lead times and reliable feedback products to our customers. Dynapar was founded in Gurnee, Illinois in 1955 and has been expanded to include Dynapar™, Hengstler®, NorthStar™, Harowe™, and Encoder Technology brand product lines. Dynapar is now uniquely a supplier of technologies spanning optical, magnetic, and resolver based feedback.