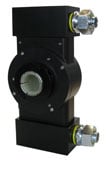 April 30, 2013 - Dynapar introduces a new addition to its line of hazardous encoders offering, the rugged Hazardous Series HSD35 optical encoder. This robust encoder expands our current portfolio of hazardous series encoders which also include the AX71, EN42, EN44, ISD37, ISD25, ISW38, X25, Hazardous Series HD20, and Hazardous Series HD25, and will provide our customers with a broader choice in encoder selection for their requirements. Certified by UL for Class I, Division 2, Groups A, B, C & D; Class II, Division 2, Groups F & G operation, the Hazardous Series HSD35 was designed with certain key elements to provide more robust feedback in hazardous environments and will be available in a variety of mechanical configurations to custom fit your application
For further information on the Hazardous Series HSD35 or other Hazardous Duty Encoders we offer, please visit or
hazardous duty encoder overview page
Availability
The Hazardous Series HSD35 encoders are built to order and available for the general market starting April, 2013 with an initial 2 week lead time. The new models will be marketed under the NorthStar brand name and will be manufactured in the company's Gurnee, IL manufacturing facility. For new or existing applications and volume pricing, contact a Dynapar representative at 800-873-8731 or visit the web for specifications and technical information.
https://ecatalog.dynapar.com/ecatalog/incremental-encoders/en/HAZARDOUS_HSD35
About Dynapar
Dynapar is a manufacturer of optical and magnetic encoders and resolvers with more than 50 years of experience in engineering and manufacturing rotary feedback devices. Dynapar was founded in Gurnee, Illinois in 1955 and has been expanded through the acquisitions to include Dynapar™ Hengstler™, NorthStar™, Harowe™, and Encoder Technology brand product lines. .
Pioneering the first true vector-duty hollow-shaft encoder launched Dynapar's strong presence in several industries, including steel, paper, elevator, oil and gas, wind energy, medical, material handling, and industrial servo manufacturing. From small kit encoders to large mill-duty tachometers, Dynapar has the industry covered.
Dynapar customers rely on expertise and support provided from the U.S. sales and manufacturing location in Gurnee, Illinois: Phone +1 800.873.8731 or +1 847.662.2666; FAX +1 847.662.6633. In addition, Dynapar supports global customers with local sales and production locations in Germany, Japan, China, and Brazil.