Encoder Resolution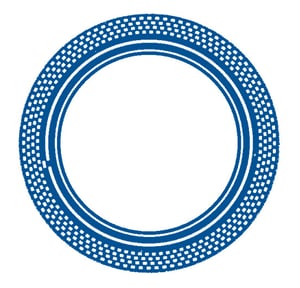 Encoder resolution is the number of measuring segments or units in one revolution of an encoder shaft or 1 in/mm of a linear scale. Encoder resolution is commonly measured in pulses per revolution (PPR) for incremental encoders and bits for absolute encoders.
An encoder pulse refers to the smallest segment of a given physical quantity that the encoder can measure or display. In other words, it is the granularity with which the encoder can monitor the equipment. On an optical encoder code disk, the more densely scribed the pattern, the higher the resolution.

Rotary encoders are available with resolution of up to 10,000 pulses per revolution (PPR) directly and 40,000 PPR via interpolation. Linear scales offer resolutions on the order of microns.
Learn how to calculation the right encoder resolution for your application here
A common misunderstanding regarding encoders is to assume that a higher resolution improves the accuracy of the system as a whole. It is important to note that increasing resolution will not compensate for the latter type of error (see figure 1). Adding more pulses per revolution may improve the ability of the encoder to report position but if there is a systemic error, higher resolution will not correct it.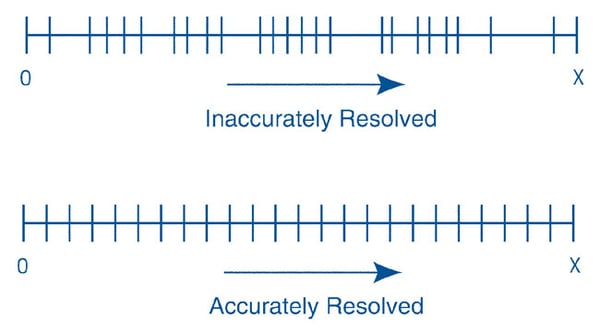 The two examples above have the exact same resolution (24 counts) but dramatically different accuracy. This is an example of how high resolution cannot improve accuracy.
Encoder Accuracy
Encoder accuracy is a measure of the error between the value read out by the encoder and the actual physical value being measured. Encoder accuracy is measured in arcminutes or arcseconds with 20 arcminutes (0.3 degrees) or better generally considered a high accuracy encoder with some precision devices on the order of 5 arcseconds (0.0014 degrees).

The accuracy of an encoder reading can be degraded by multiple error sources. One of those sources can be the encoder itself. The widths of the lines on the optical encoder disk can vary, for example. This might introduce a small error in the timing of the pulses generated by the encoder. If the amount of error is known, it can be calibrated out by the controller. One method of finding the error is to use an external high precision encoder to measure the amount of error, recalibrate and then remove the precision encoder so that the system can function at a higher degree of accuracy than before.

In other instances, error stems from the equipment being monitored. A gearbox might have backlash, or a lead screw might have play in its motion. It's important to keep in mind that the encoder can only report on the position of the equipment it is monitoring. If there is a mechanical error, the encoder cannot improve performance.