Indirect by Monitoring Motor Shaft with an Encoder
The indirect measurement method involves monitoring the shaft of the motor driving the conveyor belt. The encoder should be mounted directly to the motor shaft. It will output either a pulse stream (for an incremental encoder) or a digital word (for an absolute encoder) that corresponds to the displacement of the motor shaft.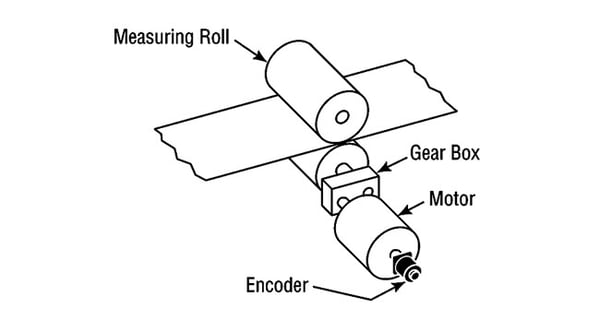 To convert from encoder output, it is necessary to physically measure the amount of travel introduced by one rotation of the motor. For a constant travel L, the drive can calculate speed s in feet per second by:

where fp is pulse frequency in hertz.
The drawback to this approach is that it does not consider mechanical slop that may be introduced by the coupling, gearbox, belt slip, etc. This also brings up an important point: the mechanical performance of the conveyor belt and the speed resolution of the motor are the limiting factors in maintaining consistent speed with a conveyor belt. All an encoder can do is report. The resolution needs to be high enough that it the encoder can accurately report the change in position that gets converted to speed. Specifying an encoder with resolution above that will not improve system performance and may even lead to an erroneous reading.