Mill-Duty Encoder Gets Reliability Enhancements
HSD35-Mill-Duty-Encoder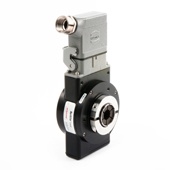 July 20th, 2010—Dynapar announces the next-generation NorthStar HSD35, the mill-duty version of the vector-duty HS35R hollow shaft encoder. The new HSD35 utilizes the same core technology as the HS35R to provide maximum uptime with features such as a 400g shock rating, optional 100C temperature limit, and enhanced sealing. Additional mill-duty features include solder-less connectors for easy field service, stainless steel shaft hub and dual- split clamp to resist common mill chemicals, and optional dual isolated outputs for redundancy. Like its sibling HS35R, the new encoder is also RoHS and CE compliant.
Mill-Duty Focus
Pulp & paper, lumber, and steel mill environments are typically harsh and downtime is considered unacceptable. Therefore, the new encoder started with the proven design of the HS35R and was taken a step further. Addition of positive-latching solder-less connectors not only ensures solid connections in high shock and vibration applications, they also allow for easy field service with minimal tools: all that's needed are a screwdriver and wire stripper to make positive connections.
The mill environment also usually consists of caustic chemicals, moisture, and debris. To combat this, the HSD35 features a powder coating over hard anodizing on the housing surface and stainless steel shaft hub and clamp. Shaft corrosion can make encoder removal difficult, and in time can lead to failure. The stainless hub clamp not only helps resist corrosion, it has higher resistance to stripped threads to ensure a more positive and durable shaft engagement.
Core Technology
As with the recently introduced
HS35R encoder
, the new HSD35 utilizes the same phased-array sensing engine, unbreakable disc, bearing structure, and sealing concept. This encoder design has proven itself in punishing environmental testing and will be a welcome benefit in a package targeted for the mill user. In common mill applications, vector-duty motors can suffer eddy current buildup on the rotor when used with high frequency drives and grounding through the hollow-shaft encoder will shorten encoder bearing life. To combat this, the HSD35 features electrical and thermal isolation on the shaft hub using composite materials.
Availability
The new HSD35 is built to order and available for the general market in late February, 2010. The company will be phasing in the various configurations over the course of the year, running alongside the previous HSD35. Dynapar expects the transition to be complete by late 2010. The HSD35 will be marketed under the NorthStar brand name and will be manufactured in the company's Gurnee, IL manufacturing facility. For new or existing applications and volume pricing, contact a Dynapar representative at 800-873-8731 or visit the web at www.dynapar.com for specifications and technical information.
Learn more about the HSD35 heavy duty encoder here
About Dynapar
Dynapar is a world-leading manufacturer of optical and magnetic encoders and resolvers with more than 50 years of experience in engineering and manufacturing rotary feedback devices. Dynapar was founded in Gurnee, Illinois in 1955 and has been expanded through the acquisitions to include DynaparTM HengstlerTM, NorthStarTM, HaroweTM, and Encoder Technology brand product lines. Dynapar is now uniquely a provider of technologies spanning optical, magnetic, and resolver based feedback.
Pioneering the first true vector-duty hollow-shaft encoder launched Dynapar's strong presence in several industries, including steel, paper, elevator, oil and gas, wind energy, medical, material handling, and industrial servo manufacturing. From small kit encoders to large mill-duty tachometers, Dynapar has the industry covered.
Dynapar customers rely on expertise and support provided from the U.S. sales and manufacturing location in Gurnee, Illinois: Phone +1 800.873.8731 or +1 847.662.2666; FAX +1 847.662.6633; Website: www.dynapar.com. In addition, Dynapar supports global customers with local sales and production locations in Germany, Japan, China, and Brazil.