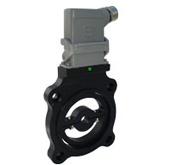 April 3, 2013 - Dynapar announces an exciting new addition to its compact and rugged NorthStar SLIM Tach family, the SLIM Tach ST56 Encoder. This redesigned magnetic digital tachometer shows its versatility in being able to provide reliable position and velocity feedback from electric motors in both industrial and harsh duty environments while being mechanically compact for space constrained applications. The SLIM Tach ST56 design will provide users with superior ease-of-installation coupled with precision sensing technology and will be available in a variety of mechanical configurations to custom fit your application.
The new design continues the NorthStar tradition of rugged and robust construction while upgrading the sensing technology and overall mechanical design to provide our customers with the widest sensing gap in the industry at 60 thousandth's air gap. These encoders also come with a convenient diagnostic LED to provide visual status of encoder functionality
Dynapar's SLIM Tach ST56 features:
For further information on the ST56,
please visit our product page here
Availability
The SLIM Tach ST56 digital tachometers are built to order and available for the general market starting April, 2013. The new models will be marketed under the NorthStar brand name and will be manufactured in the company's Gurnee, IL manufacturing facility. For new or existing applications and volume pricing, contact a Dynapar representative at 800-873-8731 or visit the web for specifications and technical information.