How to Synchronize Motors with Encoder Feedback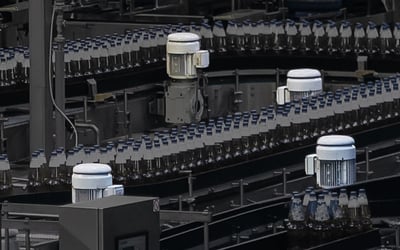 Many applications require the synchronization of two or more motors, including gantries, printing lines, cranes, and conveyor systems. Effectively synchronizing motors requires encoder feedback on each motor.
Encoder Essentials White Paper
Encoder Mounting. How to Optimize the Life and Performance of Rotary Encoders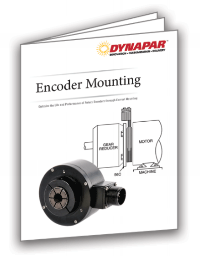 There are three types of motor synchronization:
Velocity Matching

Angle matching
Torque matching
Motor Synchronization Methods
There are three major approaches to synchronizing a pair of motors:
Synchronize 2 Motors with A Single Drive
Drives are available that are designed to power multiple motors. Each motor is equipped with its own encoder. The multi-axis drive incorporates multiple I/O boards to accept feedback from each motor. Algorithms within the drive apply feedback to drive the differential to zero.
Although this technique can be used successfully with very closely matched motors, it is generally not the most effective approach. Multi-axis drives typically consist of a power bridge for each axis, managed by a power controller. This design is analogous to putting multiple drives into a single package, with the same issues of power consumption and thermal management. At the same time, it lacks the flexibility and levels of control that would be provided by standalone drives. Discrete drives are more effective.
Synchronize Motors via Master-Slave Architecture
Today's smart drives feature the processing power and memory required to not just provide commutation commands to the motor but to act as controllers in their own right. When connected in a master-slave architecture, these drives can close velocity and position loops, making them suitable for synchronization.
Master-slave architectures require bidirectional or ring-based network topologies that communicate over digital buses with short cycle times and minimal latencies. The specifics vary from protocol to protocol. In an EtherCAT system, for example, the drive on the master axis sends a telegram to the slave drive, providing it with a motion command and interrogating it for encoder feedback. In the event of a slip or change in one motor, the encoder provides feedback, allowing the system to compensate and maintain the desired speed or position.
Use One Drive per Motor, with PID Loop Control
PID control can be used to synchronize two motors in velocity/position. Each drive commands its respective motor to the same velocity/position, then uses encoder feedback to drive the differential velocity to zero. PID control is most effective when used for position matching; when it's used for velocity matching, cumulative error can be problematic, depending on the application.