An Affordable Remote Vibration Monitoring System That's Easy to Install
To make setup easy and painless, our vibration monitoring system connects via cellular data or an existing Wi-Fi network. Data is securely sent wirelessly to a cloud meaning there is no need for expensive local servers and no need to wire the system into control architecture. Once in the cloud, the vibration sensor data can be analyzed with powerful tools and alarms can be sent right to your phone. The result is an affordable system that can setup in minutes, capture data wirelessly, provide real-time information about your assets. It can alert you of a problem AND help you analyze the root cause.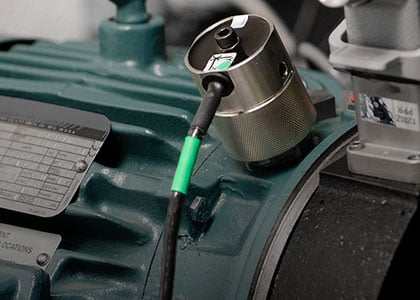 What Is Vibration Monitoring Important?
Vibration monitoring of critical assets is important in preventing production halts and equipment failure. By monitoring the condition of critical equipment, manufacturers can analyze and predict issues with rotating assets and maximize production output, minimize downtime and plan maintenance in advance. Dynapar's online vibration monitoring system makes it easy to take charge of equipment reliability by remotely monitoring critical aspects via vibration sensors and sending alerts when issues arise.