How Online Condition Monitoring Benefit Cooling Towers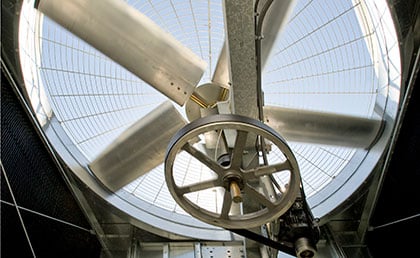 Industrial cooling towers are specialized heat exchangers that use evaporative cooling to lower the temperature of incoming water. Pumps bring the water into the tower, where it is sprayed over some type of a louvered cooling structure to maximize surface area exposed to moving air. Fans create airflow over the water as it cascades across the cooling structure. As with boilers, cooling towers are essentially utilities whose products are consumed by the processes that take place in the plant. There are complex systems that take time to start up and shut down.
In some cases, these fans are mounted overhead in the center of the tower, making them hard to reach for manual monitoring both in terms of location and environmental conditions. Side-mounted fans are easier to access for monitoring but failure between readings can still stop the flow of cooling water and interrupt dependent processes across the plant.
Online condition monitoring gives visibility into the health of even difficult-to-access fans around the clock. Systems can be configured to automatically send alerts to vibration technicians and maintenance in the event that the vibration spectrum changes or other operating parameters exceed thresholds.