Dynapar OnSite™ Condition Monitoring Overview
The Dynapar OnSite™ condition monitoring system is a hardware and software solution that combines flexibility with fast results. The hardware hub captures vibration, temperature and speed (with an encoder present) and transmits it via a Wi-Fi or cellular network. It deploys in minutes: Just attach the sensors, turn on the power and the Dynapar OnSite™ System does the rest. There is no need to download software - the application resides in the cloud. And built-in software tools make it easy to set alarms and analyze data in real time.
Dynapar OnSite™ System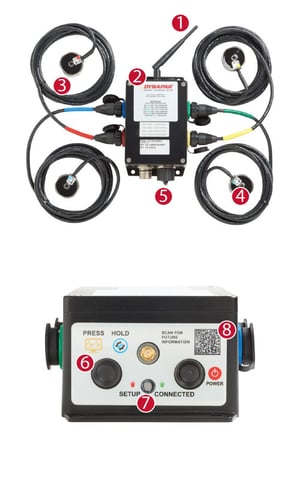 1. Wi-Fi or Cellular Communication
Compatible with existing infrastructure (no proprietary gateway required). Max range: 300m, line of sight.
2. Sensor Node
Installs in minutes with multiple mounting options. Rated at IP65 and 85°C max temp for harsh environments.
3. Sensor Cables
Sensor cable extends up to 30ft for hard to reach locations.
4. Sensors
Each node contains four sensors with tri-axial accelerometers and temperature sensors. Each sensor is rated IP68 and 105°C max for rugged environments.
5. Optional Encoder Input
Connect encoder for speed data allowing full situational awareness of machine condition.
6. Edge Trigger Data Collector
Push button for a quick snapshot of current data.
7. Asset Status Indicator
Visually confirm device status with multifunction LED.
8. QR Code
Scan for quick access to software and commissioning portal.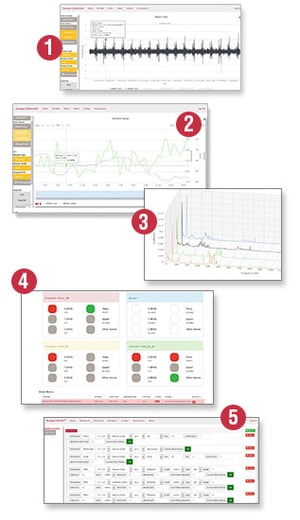 1. Vibration Waveform
See an overall trend to quickly spot spikes and issues early.
2. Overall RMS with Speed and Temperature Data
Combine vibration data with speed and temperature to achieve complete situational awareness (encoder input needed for speed data).
3. Advanced Analysis Tools
Advanced analytic tools such as water fall plots and harmonic cursors are built-in for experts to quickly root cause critical issues.
4. Dashboard
Quickly identify troubled assets at a glance and view event history. Dive into the data quickly from the dashboard to determine the issue, not just that an alarm went off.
5. Alarms
Customizable alarms based on user-established thresholds for RMS, FFT, dynamic FFT orders, peak Gs, speed, temperature, missed posts and local data request.
Sensor Specifications
Operating Temperature Range (Sensor)
-40°C to 105°C
Operating Temperature Range (Hub)
0°C to 40°C (200 and 500 models)
-20°C to 80°C (DCN and DCS models)
Frequency Bandwidth
0 Hz - 1,000 Hz

Measurement Range (programmable)

Low Mesurement Range Sensor: +/- 8g (Range: 2, 4, 8)
High Mesurement Range Sensor: +/- 40g (Range: 10, 20, 40g)
Sensitivity
15.6 μg/LSB
Spectra Line
Programable (24K max)
Sampling Frequency
4000 Hz
Temperature Sensor
Yes
Max Number of Hubs
255
Frequency Accuracy
+/- 1 Hz
Low-pass Antialiasing Filter
1.5 kHz
Low-pass Digital Filter
1 kHz
High-pass Filter
DC - 10 Hz Programmable

Condition Monitoring System Overview


Learn more about the Dynapar OnSite™ Condition Monitoring System, view key features and download datasheets.

Online Condition Monitoring Process


Discover how the Dynapar OnSite™ system can change the way you monitor critical assets and eliminate data silos within your organization.

Condition Monitoring Applications


See examples of how plants of all sizes use the Dynapar OnSite™ System to detect problems before they occur, monitor assets and make decisions.

Request More Info


Condition monitoring, reinvented. Discover what the Dynapar OnSite™ System can do for you. Request more information about the OnSite system today.