Dynapar Announces the AI25 EtherCAT Encoder
New EtherCAT Absolute Encoder offers highest resolution in the market, robust design, and best in class cycle times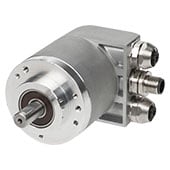 October 6, 2016 - Dynapar expands the Hengstler® AI25 absolute encoder product line with the addition of the EtherCAT interface, making the AI25 one of the highest performance EtherCAT encoders in the market with best in class resolution, accuracy, design robustness and cycle times. With the availability of the AI25 EtherCAT Encoder, users can now integrate into virtually any system that uses the EtherCAT communication protocol, simplifying the design process and guaranteeing reliable communication.

The AI25 EtherCAT Encoder offers fast cycle times of 62.5 μs and the best single turn resolution (22 bit) in the market with absolute accuracy of ±35" making the encoder ideal for applications requiring accurate real-time speed and position data such as robotics, packaging and high-end motion control. With best in class 400G shock and 30G vibration ratings, the AI25 EtherCAT Encoder is also suitable for rugged environments. Additionally, optional shaft seals and stainless steel housing offer increased protection. The encoder is available in several configurable options including hub bore or shafted mounting and resolution options up to a combined 32-bit resolution.

See more about the AI25 EtherCAT Encoder here

Learn more about encoder interface protocols here

Availability
The new AI25 EtherCAT is built to order and immediately available for the general market. The product will be marketed under the Hengstler brand name and will be built in the company's manufacturing facility in Aldingen, Germany. For new or existing applications and volume pricing, contact a Dynapar representative at 800-873-8731 or visit the AI25 EtherCAT Encoder webpage for specifications and technical information.